Hurricane Dorian: Another Geoengineered Super Storm
with a Political Purpose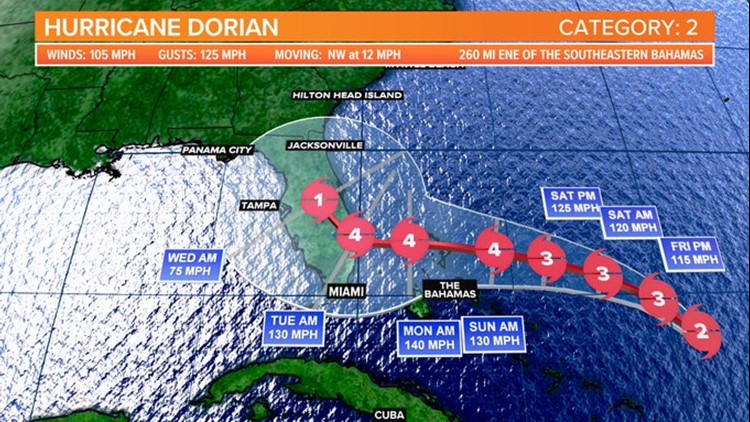 Where exactly will the geoengineers target in Florida and how powerful will they make Hurricane Dorian at landfall?
Let's be clear, hurricane season comes to the Southeast each and every year without fail.  Sometimes the hurricanes hit the various coastlines; sometimes they don't.  Sometimes they turn into superstorms; most times they don't.
However, and it's a HUGE however, the geoengineers have repeatedly proven that they can take a formed hurricane in the Atlantic and transform it into a superstorm and then steer the weather weapon into any target they so choose. See PROOF: Hurricane Michael was a geoengineered superstorm attack on Florida red counties (Video)
Hurricane Michael
Hurricane Michael was smashed into the Florida Panhandle coastline in just this manner.  The geoengineers basically fabricated a storm off the Yucatan coast and then steered it ever so slowly northward.  At the last minute the globalists gave their orders to rev it up from a Cat 1 or 2 to a Cat 5 mega-hurricane.  That dramatic and deliberate intensification of Michael by the geoengineers caught the region totally off guard and destroyed whole communities that have yet to recover.  It also killed hundreds of people and their pets. Read more at http://stateofthenation2012.com/?p=127339
Engineered chaos makes everyone vulnerable until the majority of people take lawful action to end it
Please notify family, friends, and associates living in Florida. Thank you.
Lawful action in Canada
100% VETO power to the people written in a new Constitution. https://ourgreaterdestiny.org/2019/01/public-interest-constitutional-class-action-canada/
Lawful action in the USA
Private law arbitration process. The possibility exists that every American can opt in. https://scannedretina.com/2019/08/08/p-u-b-l-i-c-n-o-t-i-c-e-08-08-2019-exit-tyranny-project-usa-urgent/
Lawful action in Australia
Regain sovereign rights and freedoms from corporate political party governments. https://ourgreaterdestiny.org/2019/01/my-will-my-country-advance-australia/
Lawful action in democratic countries
Resources.
https://ourgreaterdestiny.org/2018/12/remedy-to-global-challenges-template-action-plan/
Solution to manufactured migrant and refugee crisis
Boots on the ground testimony.
https://ourgreaterdestiny.org/2018/12/solution-to-the-engineered-global-migrant-and-refugee-crisis/
DISCLAIMER
This information is not intended to provide legal or lawful advice. It is for educational purposes only.
Sincerely,
Doreen A Agostino
Without Prejudice and Without Recourse
http://freetobewealthy.net
Sent via hardwired computer
All wireless turned off to safeguard life
environ