RECRUITMENT NOTICE FOR 2020 POTUS CANDIDATE Before
Only True Independents Need Apply
By SOTN
Submitted by

Concerned American Citizens 2020
The Concerned Citizens of the USA 2020 are looking for a truly INDEPENDENT candidate for POTUS to compete during the 2020 election cycle.
The candidate will not be associated with either of the two major political parties. If they are currently, they will be required to quit their party prior to any consideration.
Only candidates who agree with the explicit stipulations listed below, and are willing to sign binding legal contracts which mandate the following 5 conditions to be executed during the first day in office, will be considered:
• The immediate nationwide moratorium on the military deployment of 5G roll-out and buildout of the

Internet of Things
• The immediate termination of chemical geoengineering via chemtrails and HAARP-level frequency generators—nationwide
• The immediate cessation of all wars involving the U.S. Armed Forces and foreign proxies and/or mercenaries employed by
the U.S. Military
• The immediate closing of all open borders to illegal aliens and immediate cessation of illegal immigration which includes a suspension of DACA
• The immediate termination of all infanticide abortions conducted in the USA as well as a temporary suspension of all elective abortions
These five conditions represent the main pillars of our political platform; there are several other important positions which will also stand as essential criteria for a successful candidate. However, each of these 5 conditions must be followed by presidential actions on Inauguration Day — January 20, 2021 — via Executive Orders that will be effective immediately.
Other priority presidential initiatives include disestablishment of the Central Intelligence Agency, Federal Bureau of Investigation and Department Homeland Security. Similarly, the Internal Revenue Service must be permanently dissolved and the Federal Reserve System shut down for the good of the Republic. Likewise, the U.S. Department of Justice requires a complete re-chartering of its central mission and re-structuring of the organization, which now protects the most dangerous criminals on Earth while the U.S. Attorney General prosecutes the most courageous whistleblowers and honest truth-speakers.
All of these sweeping endeavors will commence on Inauguration Day; therefore, the eligible candidate will be fully prepared to begin executing each of them. Read more at http://stateofthenation.co/?p=3918#more-3918
Gun grab Virginia: censorship + disarmament 'always' precede communist takeover
https://www.lewrockwell.com/2020/01/daisy-luther/virginia-wants-to-close-non-govt-gun-ranges-and-create-ammo-free-zones/
https://www.nraila.org/articles/20200110/virginia-general-assembly-passes-capitol-gun-ban
The Communist/Capitalist Alliance in plain sight
Iranian parliament is a pyramid. They are all Freemasons.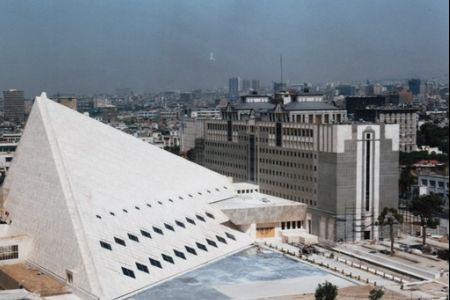 https://www.henrymakow.com/2020/01/Iran-Israel-Conflict-is-a-Charade.html
By Dr. Stan Monteith
2007
Alexandr Solzhenitsyn discussed the communist/capitalist relationship at the AFL-CIO convention in Washington, D.C. on June 30, 1975. Why did the CFR-Globalists suppress Alexandr Solzhenitsyn's message? Because they don't want the American people to know:
1. There is a covert alliance between the men who control the communist world and the Globalists who control our nation.
2. The U.S. has kept ruthless communist regimes in power.
Read all about it https://www.crossroad.to/Quotes/globalism/monteith/1-communist-capitalist-2007.htm
5G is a military grade weapon
Download PDF https://ehtrust.org/wp-content/uploads/5G_What-You-Need-to-Know.pdf
Where attention goes, Power of creation flows
To end the reign of terror holding us hostage requires a critical mass of Americans to:
Pull together to elect a consciously aware President of the United States of America in 2020, who honorably serves the people and country.
Power of Community
Take a lesson from 250 Amish men in Ohio, who with their bare hands lifted a barn and relocated it. It's no big deal to show up and help your neighbor move a barn — next year, it might be your barn that needs to be moved or something else.
If the majority of people knew about the deliberate assault on us, our families, food, wealth, and how climate hoax is being used to usher in a totalitarian one world communist regime, surely people would pull together to save ourselves and to live free.
Please, share this post or at least share the SOTN link far and wide because if the forces of darkness take the most heavily armed people on the planet, what will that mean for the rest of us?
Give it legs!!!  http://stateofthenation.co/?p=3918#more-3918
Sincerely,
Doreen A Agostino
Without Prejudice and Without Recourse
http://freetobewealthy.net
Sent via hardwired computer
All wireless turned off to safeguard life
gov intl