From kitchen [scraps], to garden, to table
Tens of millions of acres were lost in 2019, fraudulently attributed to climate change, when in fact it was a brutal year for farmers due to climate 'control' via weather modification including firestorms.
Learn more https://www.youtube.com/channel/UCF3ouXSytIKn8TjSP4M8fvQ
Identify your planting zone for best results
Planting zones are areas you can find on a growing zone map that show exactly which plants are best suited to thrive in your given area, or zone.
Canada https://www.gardenia.net/guide/canadian-hardiness-zones
USA https://gilmour.com/planting-zones-hardiness-map
Beginners Guide to Companion Planting
Just like people, plants have friends too. Planting your veggies with others they like or dislike growing with can help increase yields, decrease disease and can limit pests. Beginner's list https://heeman.ca/garden-guides/companion-planting/
https://www.garden.eco/plant-companions
Regrow a Carrot for Greens and Seeds
Once a carrot has been harvested, it cannot be used directly to grow more carrots. However, the severed carrot tops can be used to grow carrot greens. Carrots not harvested and left to winter over will produce seeds which can then be used to grow more carrots.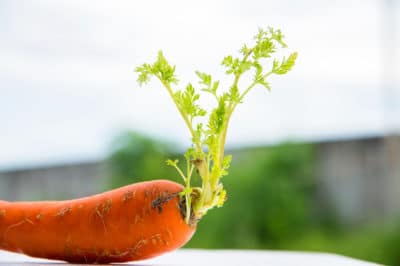 https://www.garden.eco/how-to-regrow-carrots
Regrow Celery ~ from kitchen scraps
Growing celery seems too fussy until I found this post.  We always have a celery stalk in the fridge, and until now the base has been simply discarded to the chickens. No longer!  Ready to learn how regrowing celery works?
http://www.housingaforest.com/regrowing-celery/
25+ Plants That You Can Regrow From Kitchen Scraps
SUGGEST: Purchase small BPA free plastic containers. Chop fresh vegetables and freeze them now [carrots, celery onion] to add to dry soup mix, or dry split peas, lentils, to make soup.
REGROW SCRAPS: https://www.epicgardening.com/25-plants-that-you-can-regrow-from-your-kitchen-scraps/
If garden centers are closed, dig up Earth from outside and place it in a planter preferably clay to grow certain food indoors.
This Homemade Tool Will Change The Way You Garden
The Gardening Channel With James Prigioni
April 2019
A simple tool can make a big difference in your Garden.
Safeguard for you and family
The more people who stock up now [include dried fruits, nuts, seeds, etc.] and start growing their own food the less desperation, and less threats, so please share with others. Thank you.
Sincerely,
Doreen A Agostino
Without Prejudice and Without Recourse
http://freetobewealthy.net
Sent via hardwired computer
All wireless turned off to safeguard life
f00d