Have Apple And Google Suddenly Uploaded A COVID-19 Tracking App To Your Phone? The Facts Behind The Furore – update
For your discretion. https://www.forbes.com/sites/daveywinder/2020/06/20/have-apple-and-google-suddenly-uploaded-a-covid-19-tracking-app-to-your-phone-android-iphone-exposure-notification-contact-tracing/#60f0bec66054
Thanks to 'T for the following – USA [see Canada and how to remove it below].

If you downloaded the latest iOS update back in May, and any following updates, then congratulations…your COVID-19 infection status will likely soon be tracked by state health officials as part of each state's contact tracing efforts.
Many iPhone users across the US have over the past few days started to notice a new setting under the "privacy" subtab of the iPhone health app. It looks like this, and allows users to "toggle on" COVID-19 exposure logging.
It's all thanks to the latest update of Apple's iOS operating system for iPhone, iOS13.5.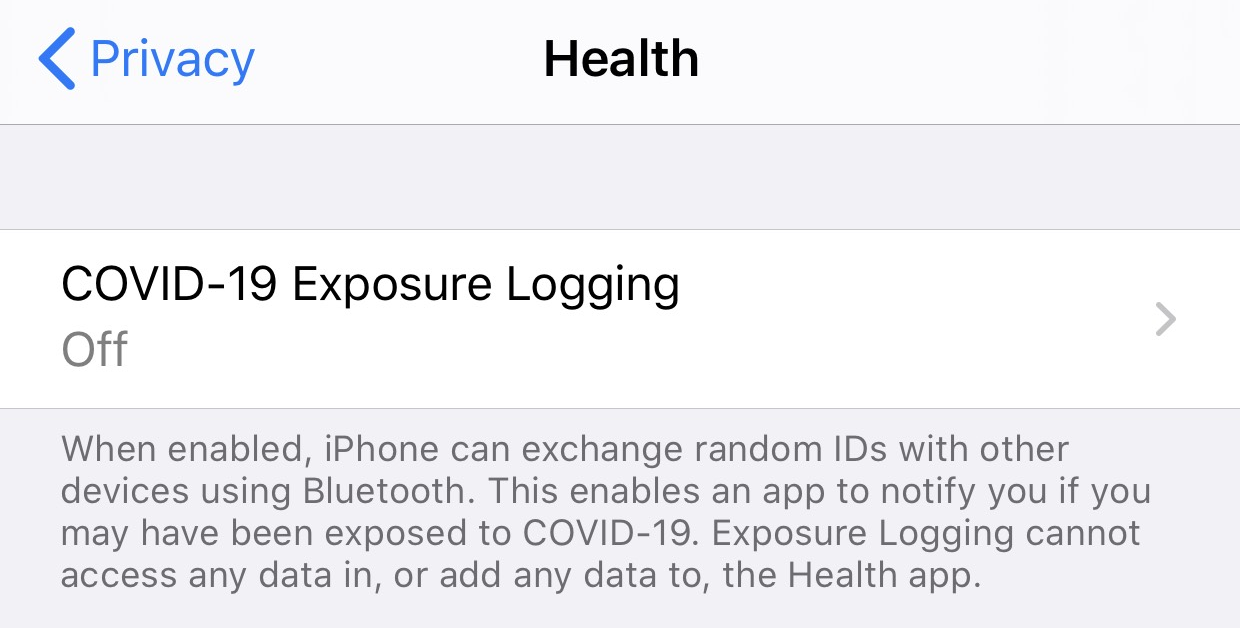 Some on twitter have only just noticed the toggle button, and we must note that it appears to have been quietly installed by Apple in recent days. Details, tweets and more at https://www.zerohedge.com/technology/how-check-if-your-iphone-secretly-coronavirus-tracker
Thanks to Nicholas for the following
I shut ours off on the Android system. It's through Google. If they try forcing an app learn to root your android and toss the Iphone in the trash.
Another option is to use 'black mode', which shuts down all processes except phone and text. It is under power mode maximum. Your Bluetooth and location must be turned off first, and then the phone is only good for text and phone. 'T'
COVID19 Contact Tracing App Soon to Be Rolled Out Across Canada
Thanks to Judy for the Canada link and how to remove the app.
Prime Minister Justin Trudeau said he hopes Canadians will download a new app on their cellphones that will alert them if they've come into contact with someone who has tested positive for COVID-19. Read more at
https://www.theepochtimes.com/contact-tracing-app-to-control-spread-of-covid-19-soon-to-be-rolled-out-in-ontario-nationwide_3393813.html
HOW TO REMOVE THE COVID 19 TRACKING FUCTION ON ANDROID SMARTPHONES
By the way my recommendation is: Turn phone in flight mode as often as you can especially if you don't use it.
How to manage COVID19 exposure notifications on iPhone
https://9to5mac.com/2020/05/19/how-to-turn-on-off-covid-19-contact-tracing-iphone-ios/
They want everybody's DNA
They want our DNA for nefarious reasons, and like everything else 'dark' closing in on us, they are using COVID19 to get it.

Please spread the word. Thank you.
Sincerely,
Doreen A Agostino
Without Prejudice and Without Recourse
http://freetobewealthy.net
Sent via hardwired computer
All wireless turned off to safeguard life
flu2020