Canadian Charter of Rights and Freedoms
Under section 33(2) of the Charter of Rights, on the invocation of section 33(1) by Parliament or a legislature, the overriding legislation renders the relevant Charter right or rights "not entrenched" for the purposes of that legislation. Read more at https://lop.parl.ca/sites/PublicWebsite/default/en_CA/ResearchPublications/201817E
When and how the government can put limits on your rights
https://www.justice.gc.ca/eng/csj-sjc/rfc-dlc/ccrf-ccdl/learn-apprend.html#s4
Canadian Bill of Rights
An Act for the Recognition and Protection of Human Rights and Fundamental Freedoms https://laws-lois.justice.gc.ca/eng/acts/C-12.3/page-1.html?fbclid=IwAR0lsdAeYrFQ0gmLQGMei9Hi9FfnJbpKia-PeRKJNiZq-qf-7q54-jIY_t8
The Bill applies only to federal laws and government actions b/c the requisite provincial consent was not obtained. Being deprived of these rights is forbidden, "except by due process of law." Another of the Bill's weaknesses is that many judges regarded it as a mere interpretive aid. Section 2 says that Parliament can override the mentioned rights by inserting a "notwithstanding" clause in the applicable statute.
Kelly Ann Wolf, assaulted and arrested by Toronto Police during a peaceful protest at Dundas Square Jan. 16, 2021, reads the Bill of Rights and briefly describes her dehumanizing arrest.
Thanks Judy for the video
Police are duty bound to safeguard fundamental rights and freedoms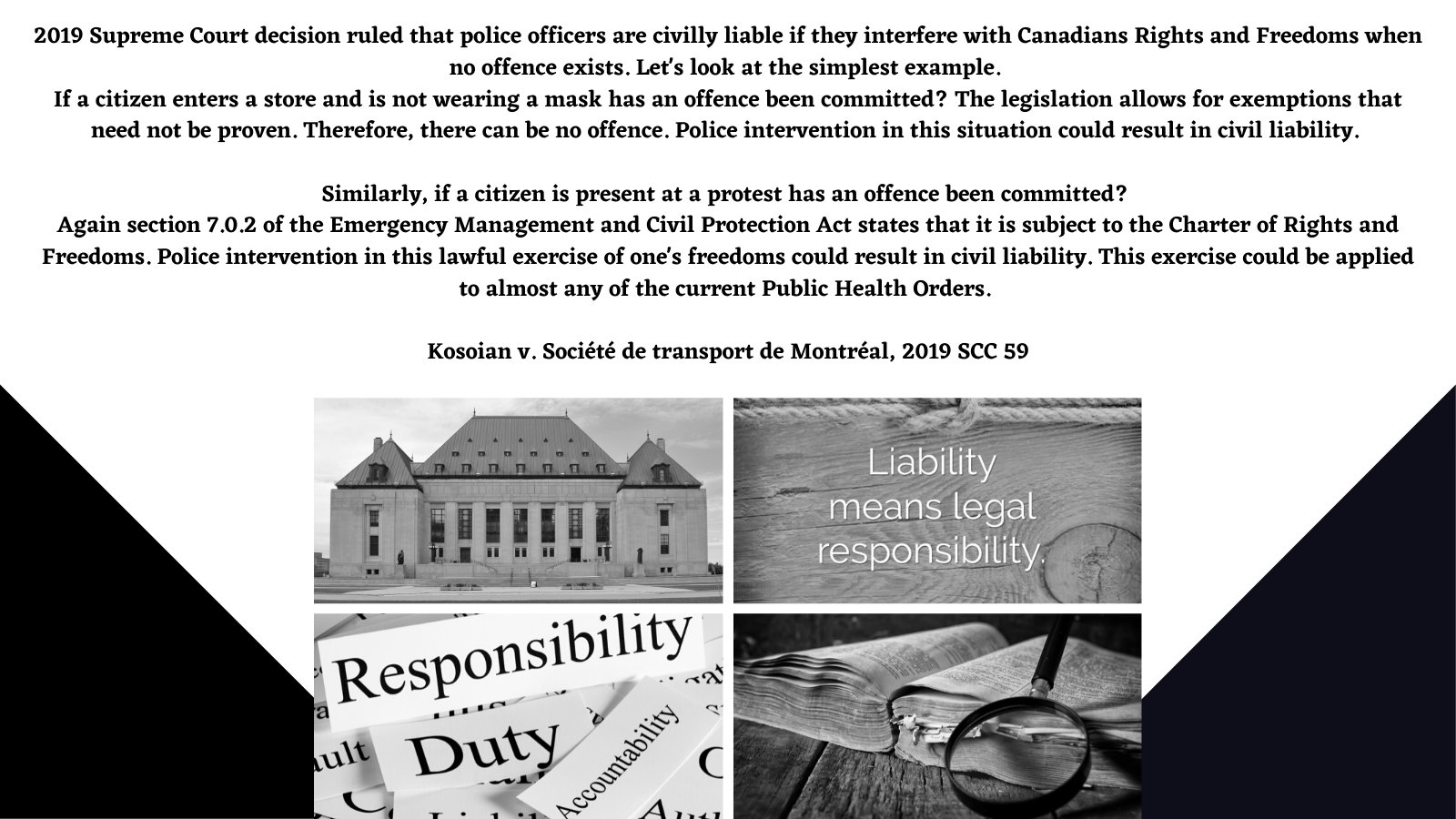 htps://twitter.com/PoliceOnGuard/status/1362008903882575873/photo/1
Personal accountability
Know the law
Justice and freedom are earned, so please support courageous people taking a stand to enforce the law and end the war on man.

Here is an update on covid court cases, and links to resources. https://ourgreaterdestiny.org/2020/11/legal-action-taken-against-covid19-measures/
Please share. Thank you.
Without Prejudice and Without Recourse
Doreen A Agostino
http://freetobewealthy.net
Via ethernet to safeguard life
lawcanada