Patents prove SARS-CoV-2 is man made
STORY AT-A-GLANCE
Hundreds of patents show SARS-CoV-2 is a man made virus that has been tinkered with for decades. Much of the research was funded by the National Institutes of Allergy and Infectious Diseases (NIAID) under the direction of Dr. Anthony Fauci, and may have been an outgrowth of attempts to develop an HIV vaccine
In 1999, Fauci funded research at University of North Carolina Chapel Hill to create "an infectious replication-defective coronavirus" specifically targeted for human lung epithelium. This appears to be the virus that became known as SARS-CoV
U.S. Patent 7279327 shows we knew the ACE receptor, the ACE2 binding domain, the S-1 spike protein, and other elements of SARS-CoV-2 were engineered and could be synthetically modified using gene sequencing technologies
The CDC holds patents to a SARS coronavirus that is 89% to 99% identical to the sequence identified as SARS-CoV-2, as well as the PCR test to diagnose it
120 patents detail supposed "unique" features of SARS-CoV-2: the polybasic cleavage site, the spike protein and the ACE2 binding, proving it's not a novel virus at all
Dr. Reiner Fuellmich and Dr. David E. Martin https://www.bitchute.com/video/WfYoIdLmN4jk/
Proof https://articles.mercola.com/sites/articles/archive/2021/07/24/patents-prove-sars-cov-2-is-a-manufactured-virus.aspx?ui=ac3d46ee13af06c2a9e2c7da2edca14b4574ffb6cdaad223aa3d8674b7082f69&sd=20121124&cid_source=dnl&cid_medium=email&cid_content=art1HL&cid=20210724_HL2&mid=DM944496&rid=1216992172
Delta variant propaganda: 'mind control' to minimize resistance to stricter coup-vid19 restrictions
What comes next, persecution of knowledgeable people who refuse to allow satanic forces to transform their divine blueprint [body, mind, spirit/soul] into a patentable commodity that can be bought, sold, and traded by patent holders?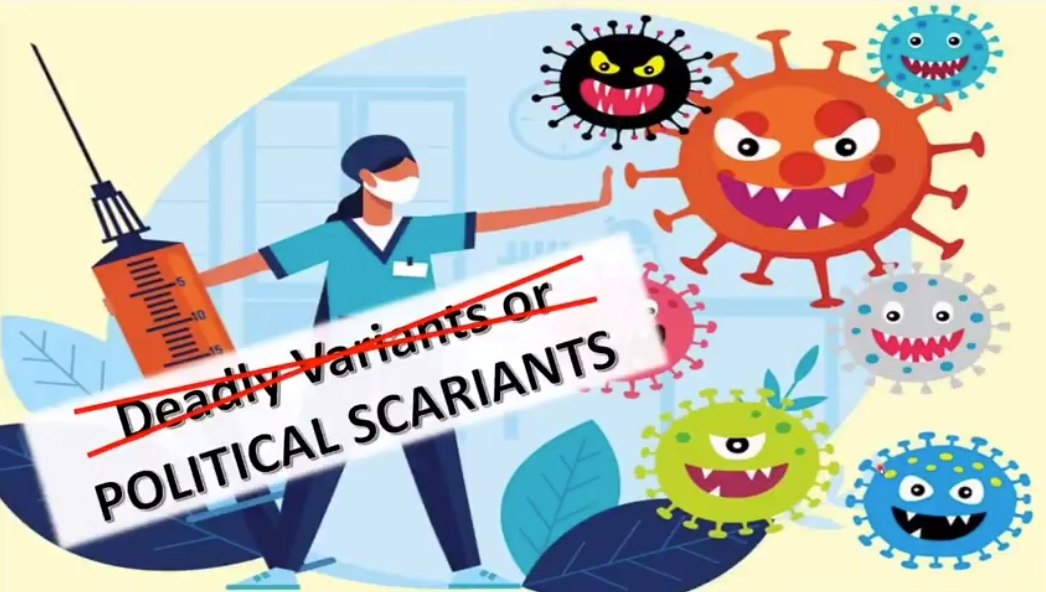 2 min video on scariants + 3 min video Dr. Mike Yeadon sounding the alarm on fake "deadly" variants. A variant is never more than .003% different from the original virus, and how people who already have immunity from most of these coronaviruses have absolutely nothing to worry about. https://healthimpactnews.com/2021/the-delta-variant-of-covid-19-is-harmless-a-scam-for-governments-to-implement-more-lockdowns/
Class 1 recall PCR tests unfit to diagnose coup-vid19
FDA announced the CDC PCR test for COVID-19 failed its full review. Its Emergency Use Authorization has been REVOKED.
A Class I recall from FDA is initiated when there is a high probability that the use of a product or exposure to a flawed product will result in serious adverse effects or death.
CDC instructs clinical labs to find alternative tests. https://www.cdc.gov/csels/dls/locs/2021/07-21-2021-lab-alert-Changes_CDC_RT-PCR_SARS-CoV-2_Testing_1.html
SOURCE: http://stateofthenation.co/?p=75383
Thanks to http://thecontrail.com New Zealand
https://www.nukepro.net/2021/07/cdc-eliminates-pcr-test-approved-under.html
George Soros And Bill Gates' Backed Consortium To Buy U.K. Maker Of Covid Tests For $41 Million
July 2021: Within days of the CDC recall of PCR tests, billionaires George Soros and Bill Gates, part of a consortium, were set to buy Mologic, a U.K.-based maker of Covid tests. Mologic produces rapid-COVID testing kits using deep-nostril technology. https://bmmagazine.co.uk/news/bill-gates-and-george-soros-buy-out-uk-covid-test-company-mologic/
How a dead bat sold in a wet market in China infected the WHOLE PLANET
Thanks to http://thecontrail.com
The snakes are coming out; who owns who, and what can be done about it. https://joyce-bowen.blog/2021/07/23/the-snakes-are-coming-out/
Share so people see the bigger picture, and ask questions about SARS-CoV-2 patents. Ask about the recall of PCR tests. Ask about any of the above to counter the consensus and disclose absurdities so people's minds open to receive new information. TY
Without Prejudice and Without Recourse
Doreen A Agostino
http://freetobewealthy.net
patents