"The primary reason for failure is that people do not develop new plans to replace the plans that didn't work". Napoleon Hill
The Great Awakening or the Dark World Reset?
This Blog is not about Us Vs. Them. It's about a greater destiny for those who make it so.

Covid is a 'call' to right action by acknowledging lies that pit man against man [politics, religion, debt slavery, education, health], releasing attachment to the lies, fear, and long held beliefs that limit human potential.
CANADA How The Communists Took Control
https://nosnowinmoscow.wordpress.com/2019/11/01/new-canada-how-the-communists-took-control-alan-stangs-full-article-now-online/ [1971]
Canada and China's social credit score
The government of Canada issued guidance April 2020 for businesses to prepare to adapt to China's Corporate Social Credit System (CSCS), an offshoot of its social credit score program for individuals. https://www.tradecommissioner.gc.ca/china-chine/cscs-scse.aspx?lang=eng
Soros' Tides Foundation and Social Economy Slush Fund
A common thread in the global communist movement since 1997 is a system called social economy; a euphemism for communism.
2006, Maxime Bernier published a review praising the merits of the social economy. https://publications.gc.ca/collections/Collection/BT31-4-73-2006E.pdf
The ultimate war …
The last American election was a battle of life or death. It's not about politics, Democrat or Republican, left or right, liberal or conservative. Nor is it about Trump or Biden, or even the right of abortion or to own a gun.
It's a war. The leader of the CCP, Chairman Xi, calls it "the ultimate war." The war has already begun, whether you like it or not.
It's a war against the CCP, a war against the devil, a war against hell, a war that America and the world cannot afford to lose. https://ourgreaterdestiny.org/2020/10/the-2020-us-election-is-a-war-of-life-or-death/
Canada and One World Government: UN Parliament Assembly
2007 Foreign Affairs Committee of the Canadian House of Commons 'supports' a UN Parliamentary Assembly
On July 11, 2007 The HOC Foreign Affairs Committee called for a review of the UNPA. https://www.ourcommons.ca/Content/committee/391/faae/reports/rp3066139/391_FAAE_Rpt08_PDF/391_FAAE_Rpt08-e.pdf
Ministry of Foreign Affairs office RESPONDED to the committee report on November 2, 2007 when Bernier was indeed Foreign Affairs Minister. Here you see the initial REPORT 8 dated July 11, 2007:
Read more at https://www.civilianintelligencenetwork.ca/2019/11/11/maxime-bernier-and-unpa/
Bernier rejects UNPA and World Parliament
Jan 2019
01:43 mins HOST You're saying that in 2010 the Prime Minister expressed support for the establishment of a World Parliament, something separate from the United Nations Security Council?
Maxime Bernier: Absolutely and you just have to go on http://unpa.org It's an official organization and they're promoting that and there's also about 50 other members of parliament in Canada that are supporting that. The big difference between me and him I will always defend Canadian sovereignty and you know I don't want other countries to decide our legislation in Canada.
Johanne Mennie former PPC Exec Director, Soros, and Deep State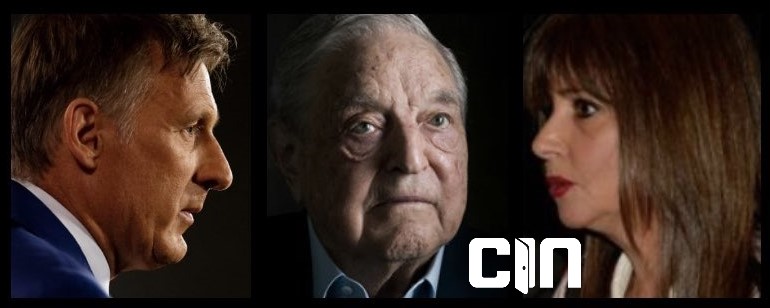 One thing George Soros, Justin Trudeau, SNC-Lavalin, and the People's Party of Canada (PPC) have in common is the Canada Investment Bank. Johanne Mennie, former PPC Executive Director is not your average upstart political party volunteer. https://www.civilianintelligencenetwork.ca/2019/03/01/johanne-mennie-deep-mysteries-deep-state/
WEF Young Global Leaders 2021
Bill Gates and Angela Merkel were WEF Young Global Leaders first graduates. Other graduates are Canadian Prime Minister Justin Trudeau, France's Emmanual Macron, New Zealand's Jacinda Ardern; puppets of the Davos clique installed in strategic places around the world. https://berndpulch.org/2021/08/27/the-most-successfull-of-all-wef-classes-1992-gates-merkel-aznar-kubicki-orban-sarkozy-summer-blair-brown/
Young Global Leaders Facebook page links to UN Sustainable Development Goals [SDG]
Thanks Judy
Liberals, Conservatives, NDP working toward UN SDG
Diverge Media had a thread blow up on Twitter after exposing connections of members of the NDP, Liberal Party, and Conservative Party to the World Economic Forum's Great Reset. Their connections are clarified through this article and should make any freedom-loving Canadian enraged at their involvement. https://twitter.com/DivergeMedia_/status/1330555045956509697?s=20
WEF Young Global Leaders' Forum – Canada
Names of those involved and current positions of influence:
More at https://divergemedia.ca/2020/11/23/great-reset-has-almost-all-political-parties-working-together-canada/
As Minister of Foreign Affairs, Maxime Bernier traveled to Davos, Switzerland in 2008 to attend the Annual Meeting of the World Economic Forum (WEF).
End times is the end of lies
Everything hidden is being revealed b/c debris from the past cannot enter a new era coming toward us. Everyone is called to purify within, to heal inner emotional wounds, release limiting patterns and beliefs, and help others where you can.
What you do with your vote is between you and the One True Creator. https://ourgreaterdestiny.org/2021/09/how-to-decline-to-vote-in-ontario-canada-september-2021/

Please share and encourage people to research deeper. TY
Without Prejudice and Without Recourse
Doreen A Agostino
http://freetobewealthy.net
awaken